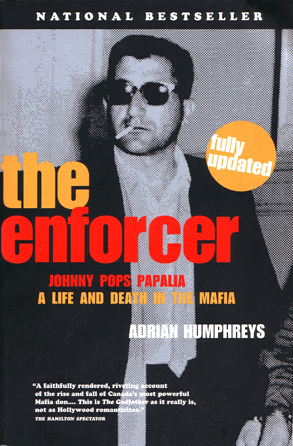 REVIEWS:
The Hamilton Spectator
"A faithfully rendered, riveting account of the rise and fall of Canada's most powerful Mafia don... This is The Godfather as it really is, not as Hollywood romanticizes."
National Post
" The Enforcer uncovers a century-old web of organized crime across Canada, the United States and abroad."
The Vancouver Sun
"The beauty of Humphreys' book, Papalia's biography, is that it takes you behind the scenes into the backrooms of the '60s, '70s and '80s where deals were made, relationships forged, and double-crosses plotted. The writing is clear and easy and the historical and family narratives running through the book make it a fascinating and educating read. Papalia lived his life in Hamilton, Ont., so The Enforcer has a decidedly central Canadian perspective on organized crime, but that doesn't stop Humphreys from connecting the dots between families and places as far away as Italy and Miami... "
The Toronto Star
"Humphreys, a former Hamilton Spectator reporter, does an admirable job of cataloguing and sorting the abundant material on Papalia's criminal career. He does so with wit and insight and honesty... "
Books in Canada
"Humphreys tells his story quickly and with impact... a complex world becomes marvelously clear and we even feel a perverse bit of Canadian pride that a rather tacky homebody mobster may have reached further and stayed alive longer and freer than many of his U.S. counterparts."
Amazon.ca
"In The Enforcer , veteran National Post and Hamilton Spectator crime journalist Adrian Humphreys digs deep into Johnny Pops's story... The Enforcer provides a thorough and at times gruesome account of Papalia's role in the Mafia in Canada, a country that, some readers will be surprised to learn, has as much of a secret appetite for vice as anywhere else in the world."

The Enforcer: Johnny Pops Papalia, a Life and Death in the Mafia
By Adrian Humphreys
(HarperCollins; December 2002; trade paperback)
Shortly after lunch on the last day of May in 1997, Johnny Papalia, a man known as Johnny Pops, Canada's Capone, Godfather and the Enforcer, was gunned down outside his office. Before he slumped, dying, to the pavement at the age of 73 — on the same small, working-class street in Hamilton, Canada, where he was born and raised — he was universally feared as one of North America's longest-reigning Mafia bosses.
For close to 40 years, gangsters across Canada bowed to the fearsome will of Johnny Pops, who rose as a Mafia chieftain through a sound upbringing by his Prohibition-era bootlegger of a father, his own deep, criminal ambition and the good graces of Stefano Magaddino, the powerful La Cosa Nostra boss across the border in Buffalo. From there, Papalia built a far-reaching criminal empire through extortion, loan sharking, and gambling — and then expanded his family's interests into heroin when he set up a piece of "The French Connection" with Joe Valachi, who would go on to become the first significant American Mafia turncoat. Johnny Pops' underworld activity took him to swank New York nightclubs with La Cosa Nostra's elite, tours of gambling joints where he controlled the action and ultimately to Riker's Island prison with the world's most notorious criminals. How Johnny Pops Papalia learned his dark trade reaches back into time and place — to his forefathers and the underworld of Italy. His story is one synonymous with the rise of organized crime in Canada.
After becoming a national bestseller and burning through numerous reprints, this trade paperback is a fully revised edition — with important new stories, remarkable new discoveries and updates throughout the text as well as a major new epilogue featuring Humphreys' interviews with Papalia's assassin, who is both a serial killer and a mob hit man. This edition also adds 29 new photographs to the already impressive collection. A true-crime classic in every sense, The Enforcer is an absorbing read for any fan.